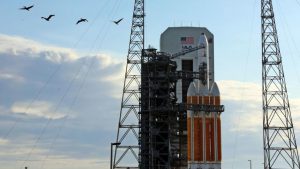 United Launch Alliance was dealing with picket lines at Cape Canaveral and two other locations on Monday after a weekend vote to strike by the International Association of Machinists and Aerospace Workers, a union spokesman said.
The union has about 600 members with ULA — 230 members on the Cape, with more in the rocket production plant at Decatur, Ala., and at Vandenberg Air Force Base in California.
Sunday's vote rejected ULA's final offer. The union's negotiating team had recommended its members reject the offer.
"The skilled men and women at United Launch Alliance are taking a stand to save the U.S. space industry," said International President Bob Martinez. "Machinists Union members made ULA into the industry leader it is today. We refuse to be disrespected."
It wasn't about money. It was about quality of life issues, especially lengthy travel stints, and also about subcontracting.
Despite an assurance from ULA against subcontracting for any new type of work, that didn't allay fears that the company plans to cut full-time jobs.
"Job security is the main thing," said Johnny Walker, business representative for the union in Cape Canaveral. "We believe they will subcontract our work and lay us off."
Walker acknowledged that the final offer contained a clause that would limit subcontracting. But he pointed to another part of the company's negotiations that sought to reclassify Aerospace Support employees as "warehouse workers" at a pay rate of about $22 per hour. He said that was an insult to them and might drive some away.
Others were angry that the company watered down language restricting travel periods to 30 days. ULA sometimes sends people from Florida to Vandenberg Air Force Base in California for extended stays. Some union members with family don't want to be gone for long periods of time.
ULA said its offer was fair, competitive and in the best interest of both ULA and its employees. The company said it included:
— $6,000 ratification bonus per employee if ratified by May 7.
— Increase annual cost of living adjustment from $850 to $1,200 per year
— Wage increases every year (Year 1 = 1.5%, Year 2 = 1.75%, Year 3 = 2%).
— Guarantee that no employees will be displaced due to subcontracting.
— Maintain existing medical plans.
"We're disappointed that the IAM members rejected ULA's last, best and final offer and voted to strike," said Tory Bruno, ULA president and chief executive officer. "We believe our proposed contract is very competitive with other companies. Importantly, ULA's final offer contributes to ULA's long-term viability in an increasingly competitive launch business environment."
ULA itself was formed in 2006, a joint venture of longtime defense contractors Lockheed Martin and Boeing. ULA is now dealing with a surge in competition from newer private companies like SpaceX, which had 18 launches in 2017 and is on pace to exceed that this year. SpaceX also has reusable rocket boosters, which allows it to charge about one-third the cost that ULA and other launch companies charge.
ULA said its operations will remain open at all sites. "ULA will implement its strike contingency plans while focusing on meeting its commitments to our customers," a company statement said.
The Machinists have 600,000 members in North America.
"The final package just didn't recognize the respect and dignity the IAM members at ULA deserve for the work they do," said Tony Wirth, grand lodge representative for the union's southern territory.
Jody Bennett, ULA's aerospace negotiator, had said that the contract included some improvements, but it "just wasn't enough for a group of working men and women who have made ULA the absolute safest company in the Aerospace Industry."