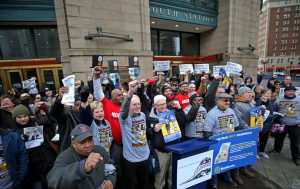 Dozens of Amtrak employees and their supporters rallied in front of South Station Monday morning to protest changes to the rail company's dining service, and the possible outsourcing of 1,700 union food and beverage jobs.
The demonstration was the latest in a series of actions across the country denouncing reductions in Amtrak meal service and the job losses that could ensue.
Protesters called for Amtrak president Richard Anderson, the former chief executive of Delta Air Lines, to be fired, holding up posters of Anderson wearing a top hat with a cartoon-villain mustache drawn on his face. They passed out fliers of Anderson in a chef hat under the headline, "All aboard the coldcut express!"
"He's turning middle-class jobs into low-class junk jobs," said John Feltz, railroad division director for the Transport Workers Union of America, one of three unions representing the 1,700 food service employees.