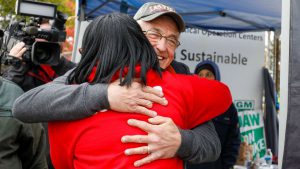 The United Auto Workers union approved a new contract with General Motors on Friday, ending a strike that idled tens of thousands of workers for almost six weeks.
The union announced the result of the voting by 49,000 union members on its website. It did not provide a tally, but several key locals said their members had backed the accord by wide margins.
G.M. could call skilled-trades workers, who maintain production machinery, back to work as soon as Saturday to begin preparing plants to resume operations, two people with knowledge of the company's plans said.
In some locations, production could resume as soon as Monday, they said. Other factories that ran short of parts during the strike may take more time to restart, they said.
The contract gives the union's G.M. workers a series of wage increases and a path for temporary workers to become permanent employees. All full-time hourly workers will be able to reach the top wage of $32 an hour within four years, putting an end a two-tier wage system that has chafed workers. Each U.A.W. worker will also be paid a bonus of $11,000.
Health care terms are unchanged, with workers paying about 3 percent of the cost, well below the portion paid by G.M.'s salaried employees.
"It's a rich contract for workers," said Patrick Anderson, an economist based in East Lansing, Mich. "The health care coverage would be the envy of nearly every worker in America."
At the same time, the agreement allows G.M. to close three idled factories permanently, including one in Lordstown, Ohio.
The closing of the Lordstown plant is one of the main sticking points for some workers voting against the contract. "We did everything that G.M. ever asked of us at times of concessions," said Bill Goodchild, a member of Local 1112 in Lordstown. "We feel we deserve a product."
But at the Detroit-Hamtramck factory, more than three-quarters of union members voted in favor. The plant was designated to close in January, but under the new contract, G.M. is supposed to invest $3 billion to upgrade and expand the factory.
The U.A.W. will now turn to negotiations with Ford Motor and Fiat Chrysler and seek similar terms. The union said Friday that it would announce soon which company it would approach next.
Michelle Kaminski, a professor of labor relations at Michigan State University, said the strike and the terms the U.A.W. won were a sign that organized labor was gaining strength.
"In the past couple of years, we've had quite a number of very successful teacher strikes around the country," she said. The U.A.W. strike is a further example that "labor is still vibrant and when it fights, it wins," she added.
At G.M.'s Flint plant, which employees about 4,800 hourly workers, members of U.A.W. Local 598 approved the contract, with 61 percent of the votes in favor and 39 percent against.
At Local 652, which represents about 1,400 workers at a sport-utility vehicle plant in Lansing, Mich., the contract was approved with a 75 percent majority.
Workers in Spring Hill, Tenn., rejected the agreement by seven votes, while others in Bowling Green, Ky., voted it down by fewer than 100 votes.