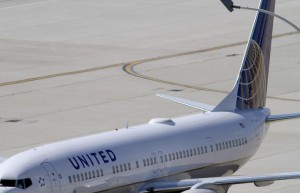 (Reuters) – United Airlines and the International Association of Machinists & Aerospace Workers (IAM) reached tentative agreements on new contracts for nearly 30,000 IAM-represented employees.
The seven agreements, which run through 2021, call for nearly 30 percent in pay increases over the term of the deal and $100 million in lump sum payments, the IAM said.
The agreements are subject to ratification by the IAM-represented employees, United Airlines said.
The IAM members will vote on the accords on April 15.
The agreements cover airport operations employees, contact center agents, storekeepers, maintenance instructors, central load planners, fleet technical instructors and related employees, and security officers.
United's management has made securing labor contracts a top focus following a leadership change in September.
For years, the company struggled to conclude joint contracts for flight attendants and maintenance workers following the 2010 merger of United and Continental, hurting workers' morale.